Mountaineer Appeal
27 May 2022
Mountaineer with Taliesin
Alco 57156, or War Department number 1265, was built in 1916 by the American Loco Company (ALCO) in 1916 for service in the trenches of France in the First World War. Surviving with two sister locos, they were used on sugar beet railways in France.
Rescued by Ffestiniog Railway Society director John Ransom and transported to England, the loco was returned to steam near London before being moved to North Wales to the Ffestiniog Railway in 1967.
After testing and various modifications, mechanically and physically (particularly the cab, to fit the loading gauge) the loco entered regular traffic.
When reboilered in 1983, with piston valves fitted and other modifications, Mountaineer proved itself of initially pulling 10 carr trains. Ultimately it settled into traffic with the Ladies, normally pulling up to 8 carrs. Mountaineer was in regular use through until the end of 1992 when it was withdrawn with cracks between the tubes on the firebox tubeplate.
In late 1994, the loco was dismantled and a new piece welded into the firebox tubeplate. The loco was reassembled and entered traffic at the 1995 All Our Yesterday's Gala in grey WD livery without nameplates, being reunited with sister loco 1257 visiting from the Froissy-Cappy Dompiere Railway in France.
Again the loco settled into another period in regular use, including on the nascent Welsh Highland Railway. In 1999 the loco was painted into the lined black livery it wears today. The last gasp was in February 2006 when the loco double headed with Blanche on service trains and performed an evening goodbye special for staff and volunteers.
Since then, the loco has been stored awaiting the day for its distinctive sound to be heard again.
Mountaineer and sister loco at Minffordd
Mountaineer with Blanche on Boston Lodge Curve
The intention is to restore the loco to traffic in as close as possible to the physical condition it spent its most recent spell of traffic. Work is underway to prepare workshop space for dismantling by volunteers for assessment.
Obviously, the key to the project is money. Currently there is no target but lowkey fundraising has commenced and has so far raised £20,000 from a lot of the loco's supporters.
On static display for the 30th anniversary of back to Blaenau
At Blaenau with Linda and Blanche
All contributions to the fund are welcome and will speed up its return to service.
Online donations may be made by credit/debit card via our CAF account (see Online Donations link below) or if you would like to do an online payment please ask for bank details from treasurer@ffestiniograilway.org.uk
For cheque donations, please send for the attention of our Secretary at:
Harbour Station
Porthmadog
Gwynedd
LL49 9NF
Mountaineer on its last days in service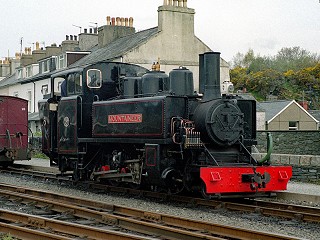 Mountaineer in service at Porthmadog