Easter Sunshine and Trains
07 April 2015
Easter Weekend was blessed by superb weather from Saturday, with glorious sunshine and warmth. This has continued into the following week.
The long weekend's service has seen a daily three train service, with two normal corridor sets and a vintage set behind Taliesin. Earl of Merioneth was out of action on Sunday and was replaced by Linda and Prince, both facing downhill.
Here are some scenes from the weekend.
Earl of Merioneth approaching Boston Lodge
Merddin Emrys and Blanche, with a paraglider in the air between
Taliesin with Carr 11 on the vintage set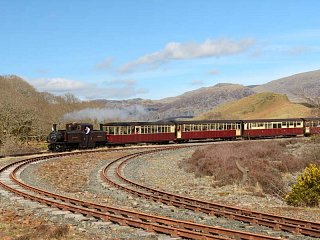 Merddin Emrys entering Dduallt
Earl of Merioneth at Ty Fry
Merddin Emrys departs Tan y Grisiau with a down train
Merddin Emrys leaves Tan y Bwlch
Merddin Emrys entering Moelwyn Tunnel
The view from Borth y Gest
Taliesin on the Vintage Train on Gwyndy Bank
Taliesin heading down from the Summit
Linda leads Prince over Penrhyn Crossing
Taliesin heads the Vintage Train back across the Cob
Merddin Emrys departs Penrhyn
Linda and Prince at Tan y Bwlch
Linda and Prince heading away from Tan y Bwlch on the downhill
Merddin Emrys heading away from Garnedd Tunnel
This beautiful Austin 7 was at Tan y Bwlch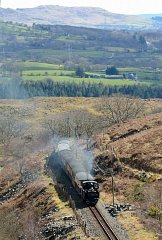 Merddin Emrys heads out of Dragon Curve towards Moelwyn Tunnel