Tribute to Steve Coulson
22 March 2015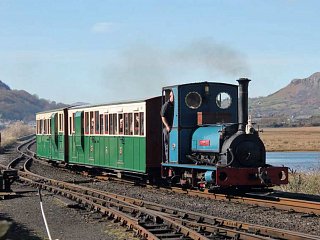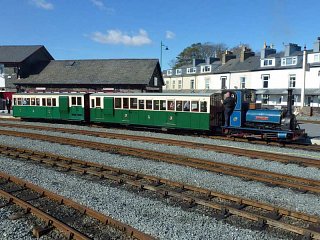 On Saturday 21st March a memorial train was run for Steve Coulson (AKA Stefco). The formation was the well known combination of Britomart, No12 and No 11. This particular Train line up has been used on many many occasions over the years.
Stefco was involved in so many projects both large and small. It is unlikely that anyone will know the extent of what he did for the railway.
An early project was the Matissa Tamper rebuilt from a standard gauge unit almost single handed. Much of the work was done outside as there was no space undercover.
The converted Matisa tamper
The converted Matisa tamper
The Vale of Ffestiniog Funkey Diesel transformed a loco from an ugly shape which would not fit the FR loading gauge to a really smart looking useful engine. Much thought went into the design which was so typical of him, with use of standard railway components wherever possible.
Vale of Ffestiniog naming, Steve Coulson by the cab
Alongside the National Power class 59
Carriage 122 was another innovative project. The size in length, breadth and height was carefully thought out to make maximum use of the space available. This was the prototype for the more recent 'Barn' saloons which exploited the same space. Another innovation was to use modern adhesives particularly double sided sticky tape extensively.
Newly repainted Vale of Ffestiniog
Even when he was ill, Steve still managed to design and build a number of lighting units for the replica traditional FR engine lamps.
These are only a few of the higher profile things Steve did. Some ideas never came to fruition. One such is the coaling plant design for Boston Lodge for coaling WHR and FR engines – though you never know…
Thanks Steve.
Electric headlamp interior
Britomart waits at Tan y Bwlch