Two comparative views of Boston Lodge Works taken sixty years apart.
From John Halsall's collection is a view from a plane taken in the 1950s. Some key features, from the left, include:

The Old Loco Shed complete with wagons and vehicles outside
The intact buildings in the top yard, including Plas Smart
Boston Lodge cottages Nos 1 and 2 – prominent in the front of the site
The Old Erecting Shop, with the Long Shed jutting out
The Old Paint Shop, rearmost to the cliff
The Gunpowder sheds out to the right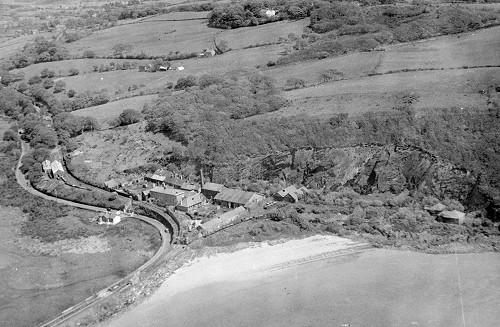 With the wonders of modern technology, a drone view by Ollie Puyall, showing how the site has exanded over the years. Still prominent are the key buildings of Old Loco Shed, Old Erecting Shop and Boston Lodge Cottages.