Ffestiniog Locomotives
01 January 2014
As befits a railway with a long and rich history, the Ffestiniog Railway has a fantastic lineup of locomotives.
The first four locos arrived in 1863/4, being built by George England & Co of London. These were followed by two slightly larger versions in 1867. Two of these original six have long since gone but the Railway is pleased to have two of the original four in traffic, with a third, Welsh Pony, currently being restored.
The railway was an early pioneer and major user of the 'Double Fairlie' locomotives, of which four survive with three in traffic.
Since the preservation, various other locos have arrived and are used on the railway and have become favourites of visitors and staff alike.
Locos Currently Available for Traffic
No 2 Prince built Geo England 1863
Whilst given the number 2, Prince was not the second loco to be delivered to the Ffestiniog Railway but was one of the first narrow gauge steam locos and is the oldest regularly working steam locomotive.
Prince was the first loco in service following the restoration of services on the railway in 1955 and saw service until 1970 when it was withdrawn as being too small.
A long rebuild saw Prince re-enter service in 1980 as a superheated oil burner and slightly enlarged appearance.
More sympathetic treatment in latter years has seen the loco make a return to a more traditional appearance.
The latest overhaul was funded by the Ffestiniog Railway Society and was completed in time for the 150th anniversary celebrations of steam on the railway.
No 4 Palmerston built Geo England 1864
One of the original locos on the Ffestiniog, Palmerston was the traveller of the locos, visiting the Vale of Rheidol Railway in the early decades of the twentieth century.
Given up as something of a wreck given its use as a stationary boiler and then stored outside, the loco was sold in 1972 and left the railway for restoration.
It returned in 1990 for display at the gala that year and its restoration with new cylinders and boiler was completed in 1993.
Along with Princess, Palmerston looks the most traditional of the small England locos and is a popular performer on vintage trains and is occasionally seen double heading service trains.
No 7 Taliesin built Boston Lodge 1999
The original single fairlie Taliesin was built in 1876 and lasted until finally withdrawn and scrapped in 1930.
Supporters and members gathered together to raise the funds to build a replica (which included the original reversing lever) which was completed in 1999.
The loco is in the final form of the legendary single fairlie with full cab.
The loco received modifications in 2012 with a new piston valve cylinder block, the same as subsequently used on the new bogies for David Lloyd George.



No 11 Earl of Merioneth built Boston Lodge 1979
The Earl of Merioneth was the product of Merddin's unsympathetic reboilering as many felt that Livinston Thompson would be unalterably destroyed by having a similar boiler fitted. Therefore an entirely new loco was constructed around the new boiler and running on the existing (rebuilt) bogies.
The new loco with large tanks entered traffic in 1979. Its lines were softened in 1989 with a new lined paint job along with other cosmetic improvements such as Merddin's old brass domes and capped chimneys.
The Earl was the first double fairlie reconverted to coal in 2007.
No 10 Merddin Emrys built Boston Lodge 1879
Merddin Emrys was the third double fairlie loco on the Ffestiniog Railway but also the first loco constructed at Boston Lodge in 1879.
Left in the shed at the cessation of operations in 1946, Merddin Emrys condition deteriorated such that it required extensive repairs and new tanks before entering service under the new regime in 1961.
Reboilered in 1970 and rebuilt, Merddin regained its elegant lines in 1987. A subsequent overhaul completed in 2005 saw boiler repairs and new power bogies paid for by the Ffestiniog Railway Society. Merdddin was withdrawn in September 2015 for boiler overhaul which saw it return to traffic with new chimneys and smokeboxes.
No 12 David Lloyd George built Boston Lodge 1992
David Lloyd George was constructed as part of a grant-funded initiative to provide extra capacity. The loco has a higher pressure and superheat than the other double fairlies.
During a major overhaul completed in 2014 David Lloyd George was converted to coal firing and received new power bogies paid for by the Ffestiniog Railway Society. It ran in 2014 in a temporary grey livery before being repainted in 2015 in its original livery.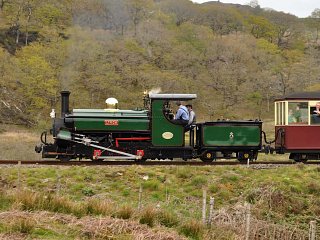 590 Linda built Hunslet 1893
Linda was hired from Penrhyn Quarries during a motive power in 1962 and was purchased the following year along with sister Blanche.
Rebuilt with a tender, pony truck, superheating and oil firing, Linda covered many miles as the mainstay of services.
Linda has carried a number of liveries over the years, with variations of FR green, lined midnight blue and Penrhyn Railway livery.
The latest rebuild completed in 2011 saw Linda return to traffic in lined Ffestiniog green livery and was reconverted to coal firing in 2013.
190 Lyd built Boston Lodge 2010
A replica of the original Lynton and Barnstaple Railway loco Lew, this was built in Boston Lodge and entered traffic in 2010.
The loco is a 2-6-2 side tank loco with Joy valve gear. It is finished in Southern Green livery, a livery that was carried by the original loco. It carries the number 190, the number it would have had if built by the Southern Railway and run on the Lynton and Barnstaple.
It has done a number of visits to other railways including the revived Lynton and Barnstaple and Launceston Railway.
Locos Currently Out of Traffic
Mountaineer built
ALC

o 1917

Mountaineer was constructed for the World War One trenches in France where locos had an average life of a couple of weeks.

Subsequently used in the sugar beet industry the loco was rescued by John Ransom and subsequently donated to the railway in 1967 whereupon it became a useful member of the fleet.

As for the ladies, Mountaineer was subjected to a few modifications over the years including a new boiler and piston valves in 1983.

There is a photo gallery of Mountaineer here.
589 Blanche built Hunslet 1893
Arriving at the Ffestiniog in 1963 Blanche was distinguished from her sister by receiving a tender cab and slightly reprofiled cab sheets. She received similar modifications over time to Linda but also received new piston valve cylinders in 1972, which further altered her appearance from Linda.
Her latest return to traffic was in 2005 with a new boiler funded by the Ffestiniog Railway Society.
Blanche was reconverted to coal in 2014 and is expected to see more mileage in 2015 following attention to valves and cylinders.
Welsh Pony following cosmetic restoration
No 5 Welsh Pony built Geo England 1867
Welsh Pony is considered a large England and was delivered a couple of years later than the first Ffestiniog locomotives.
Welsh Pony was one of the last locos in use on the railway before closure and has never run in preservation.
After many years either on display or in storage, Welsh Pony was cosmetically restored in 2013 before an appeal was launched to restore the loco to steam.
Welsh Pony has a gallery here.
Princess following cosmetic restoration
No 1 Princess built 1863
The first Ffestiniog Railway steam locomotive, Princess was one of the last operating locos when the railway closed in 1946.
It has not run in preservation and has been variously displayed and stored in the subsequent years.
Princess entered the museum at Harbour station in 1983 and remained there when the museum became Spooners cafe/bar until being removed to go on tour in 2012. She was cosmetically restored and went on a tour to publicise the railway including visiting Dublin and London.
No 3 Livingston Thompson built 1886
This is the second double fairlie constructed at Boston Lodge works to a slightly modified design to that of Merddin Emrys.
The loco was renamed Taliesin in 1931 following the withdrawal of the single fairlie of that name.
Returned to traffic in 1956 the loco subsequently earnt the name Earl of Merioneth, one of Prince Phillip's titles, and ran until 1971 when withdrawn to be ultimately replaced by the new Earl of Merioneth in 1979.
Following a long period in storage at Minffordd and Glan y Pwll, the hulk of the loco was cosmetically restored and placed on bogies ex Merddin Emrys before being placed on display in the National Railway Museum in York.
Learn some of the history of Fairlie Bogies here.