JASPER 68
18 May 2015
Introduction
Always expect the unexpected…. At the end of April we received a message that we were to have returned to us, one of our F.R. Capstans. The generous benefactor was the Amberley Museum & Heritage Centre, which in possession of 2 such items, were happy to let us have one back.
This was great news, as it gave us a pair which could be reunited with their Disc Signals back on the railway, thus presenting the complete picture. It should also be mentioned, in passing, that we have applied for an NHRA Award for the Disc Signal project.
4th May
Our working party, over the weekend of the society AGM, had limited time due to, firstly, key events on the railway and the appalling weather, which eventually relented on the Bank Holiday Monday.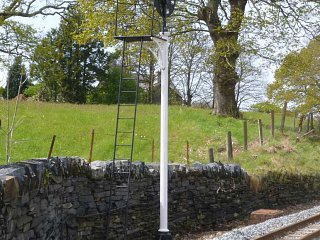 The reintroduced disc signal at Minffordd
With the thought of the award and the inevitable inspection present in our minds, we set to and cleared the piles of rock and earth from around the signal at the Long Siding, Minffordd. A simple task, but one that has left the area looking as it should do. We probably need to detattify our other signal locations from undergrowth etc. as well.
18th May
Contact had been made with Amberley and a date arranged to go and collect the Capstan. We had previously checked the weight of the one in Minffordd Yard and concluded that it could be lifted into and carried in a car.
Receiving the unrestored Capstan
We received a great welcome from John Stanton at Amberley, who took us on a guided tour of the narrow gauge exhibits, and also organised a footplate ride on a locomotive named 'Peter'! (They really didn't need to do that, honestly!)
Signalling artefacts on display at Amberley
The Capstan had been moved close to an access gate, so it was a simple task to lift it into the car and strap it in ready for the long journey back to the Festiniog. Their second example remains in the main Narrow Gauge exhibition hall, in the warm and dry.
What a great place the museum is. There is a very wide range of exhibits including their comprehensive telephone equipment collection, with many items on show which we still use today on the railway. It is very well worth a trip down to W. Sussex, if you're going that way.
And finally…
It is our hope that we will be able to replace the two Capstans we have, back into position at Lotties Crossing. Pictures of the originals have been obtained as it was impossible to work out, from walking the track, exactly where they were sighted.
They were both located at points where the formation widens, so prospects look good.
Linda passing Lottie's Crossing
Next Working Party
Saturday 23rd to 25th May