Minffordd Bottom End Points Replacement
12 February 2015
One of the Renewing infrastructure during the winter, whilst the railway is closed, is an important part of ensuring the railway is safe and efficient during the operating season, as well as investing in the future. No trains were scheduled to run on the Ffestiniog Railway between New Year's Day and Saturday 14 February, when Half Term trains are running.
One of the major projects for the winter is the replacement of the life expired bullhead crossover at the bottom end of Minffordd Station, and track leading to Lottie's Crossing.
It was hoped to replace the track with similar bullhead material but this material is no longer available. The replacement is of the modern, standard, flat bottom variety, including the two points required to make the crossover. The replacement points have also required new point motors to be procured and fitted.
The Ffestiniog Railway Society approved a grant of £57,000 in the Summer to help support this work, which started as soon as the train services ceased. It has seen a team of staff, volunteers and Network Rail apprentices working through all weathers to get the major project completed on time.
Photographs courtesy of the main Facebook site showing work progressing from the beginning of January through to the first service trains running on Saturday 14 February.
Excavation in progress 7 January
In the Station, with membrane on 8 January
The new point lifted into place 9 January
New crossover in place on 9 January
No mainline track on 12 January
Aligning points and track 19 January
Network Rail apprentices 19 January
Mineral and main line missing 22 January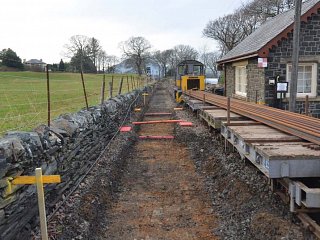 Down at the weighbridge 22 January
Braving the weather 2 February
New track leading to Minffordd 8 February