Tan y Bwlch Road Bridge Waterproofing
27 January 2016
With the concrete deck cleared of ballast, it was swept and washed clean with water
A group of volunteers were involved in the process of waterproofing Tan y Bwlch roadbridge over the weekend of 24/25 January.
Before the work could start, contractors had erected scaffolding over the bridge. The rails, sleepers and ballast had been taken away to allow unfettered access to the bridge deck.
A general view of the worksite
A trident gas torch was used to dry the surface of hte concrete deck. What appear to be rails in the concrete surface are actually the ironwork of the bridge structure, the sections being bolted together
The front half of the centre sections is now visibly dry. The 'lumps' in what appears to be rails half way across the bridge are actually where large nuts and bolts pass through the ironwork to hold the bridge together
The water below the ballast runs to the lower end of the bridge. Sealing the concrete deck will ensure it will not penetrate the concrete and reach the ironwork of the bridge below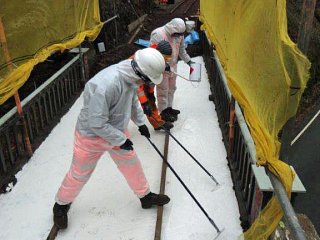 After the concrete was dry, a semi-transparent primer was applied. Being a two part chemical liquid, it was rapidly painted onto the surface of the concrete and worked into the gullies beside the ironwork. It dried within minutes. The brushes were rendered useless after use and had to be disposed of with care.
After a break for tea, the first coat of the white chemical water-proofer was applied. Again, the chemical reaction necessitated a speedy application, this time using squeegies.
Applying the second layer was just like icing a birthday cake but on a grand scale. To prevent boots contaminating the surface of the sealer, everyone has to stand on the protruding ironwork.
Being the final layer, it is essential to ensure that there are no pinholes or imperfections that would allow water penetration.
A second layer of white chemical sealer was applied
As light is failing, the sealed surface stands out as if covered by thick snow
The Permanent Way gang are now able to return to reinstate the track.
In May we will return to paint the ironwork of the bridge (last done in 1986). This will again require scaffolding but, this time underneath. For safety reasons, that will require the road to be closed for a week.
Other Permanent Way work currently underway includes relaying at Lloc Meurig and Lotties Crossing